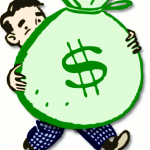 Teams are the way to go. The Ravens are a team; they won the last Super Bowl. The Prime Minister's Cabinet is a team; they run the country. The astronauts are a team on each launch; they successfully negotiate space/the moon/the space station.
Whether it's football, government or exploring the final frontier, teamwork is necessary to success. Without the right players, a team can't win.
You need the right team working for you when you're buying a home. In the next four blog entries, the right kinds of people to bring to your team will be discussed. A realtor, a mortgage agent, a real estate lawyer and an insurance agent are all vital team members.
Because mortgages are my business, that's where I'll start.
The Mortgage Agent
As in any industry there are good and bad mortgage agents. Here is what to look for:
1. Does he/she have multiple lenders available? How can your bank be unbiased if it can only sell you bank products. Find someone who only works for you and is committed to finding you the best available financing.
2. Does he/she do this full time? Financing is too important to be left to the inexperienced.
3. Does he/she specialize in a specific area? For example, if you are purchasing a commercial property does he/she have experience with this type of funding?
4. What is his/her education? Does it include education/training in financial matters? Can he/she find creative solutions on difficult deals?
5. Does he/she work with a team? Can this team work to your timetable?
6. Does he/she charge you an upfront fee? There should be no direct fee to you, or a direct fee which only applies with the arrangement of successful financing.